TOP
amenities
As one of Welland's top hotels with conference facilities, the Best Western Plus Rose City Suites has a fantastic range of guest amenities to make your stay with us a comfortable one. From free parking and a hotel fitness center to wheelchair accessible facilities and meeting rooms, we have everything you need for a successful stay in Welland, Ontario.
When you are looking for hotels with hosting facilities and the conveniences of a home away from home - choose the Best Western Plus Rose City Suites every time.
Complimentary Hot Buffet Breakfast
We offer our guests a hearty hotel breakfast buffet every morning from 6 a.m. to 9 a.m. in our breakfast room. Our rotating menu offers a nice selection of hot and cold items, including, scrambled eggs, sausages, ham, potatoes, beans, pancakes, bagels, muffins, yogurt, cereals, coffee, teas, juice and more. We also have vegan, vegetarian, and gluten free options available upon request.
Modified Breakfast Offerings due to Covid
The Enhanced Grab and Go option include:
One whole piece of fruit, one bottle of water or juice drink, one granola bar, one muffin, one yogurt, and a breakfast sandwich to be heated in the guest suite.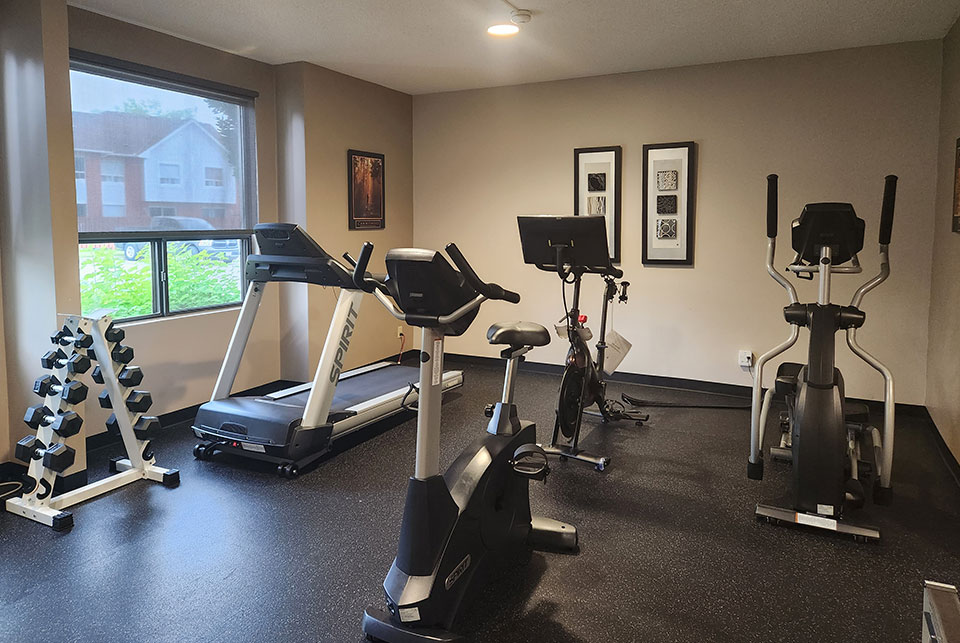 Fitness Facility and 24-Hour Business Centre
You don't have to put your daily workout routine on pause when you stay with us. Our fitness facility is open from 7 a.m. to 10 p.m. every day and features modern equipment, including a treadmill, bike, elliptical bike, universal machine, hand weights and exercise mat. When it comes to getting work completed for your next meeting, our 24-hour business center includes a variety of business amenities to suit your needs.
Meeting and Banquet Facilities
With 1,705 square-feet of meeting, conference and event space spread across three rooms and convenient business amenities such as complimentary Wi-Fi, TV with HDMI cable access and a 24-hour business center, our hotel is the best choice when it comes to choosing a meeting venue in Welland, Ontario.
Free Parking
Accessible Rooms and Features
24-Hour Front Desk
24-Hour Business Center
Complimentary Breakfast Buffet
Complimentary Fax and Photocopies
Complimentary Newspapers
Fitness Facility
Free High-Speed Wi-Fi
Complimentary Newspapers
Catering Services
Ice Machine
Vending Machines
Hotel Safe (at front desk)
Dry Cleaning and Laundry Services (Weekdays Only)
Elevator